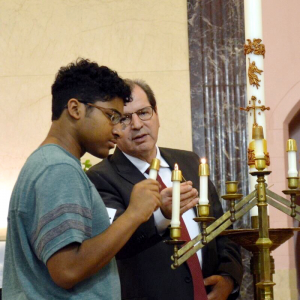 11/18/18
Our Religious Education Program continues to bring our youth and their parents/families into a deeper relationship with Jesus Christ. Lots of great things are happening! Bob Rybarczyk, with guitar in hand, led the youngest children, dressed in costumes for All Saints Day, throughout the school singing "When the Saints go marching in."! Parish representatives from the different organizations and ministries spoke to the parents of our Religious Education Children about the various opportunities available to become more involved in the life of our parish. The presentations were very well received resulting in many parents indicating a desire to get more involved in our parish community. Tina Boyd has taken on the ministry as the new Catechist for the 8th, 9th and 10th Grade students. We are deeply grateful for Tina for her willingness to share her faith in Jesus and her love of the Church with our high school youth. Please keep all those involved in our Religious Education Program in your prayers. That everyone – youth, parents, families, catechists, administration – all grow in wisdom, age and grace this year.
11/11/18
RITE OF CHRISTIAN INITIATION FOR ADULTS: The Rite of Christian Initiation for Adults (RCIA) is meant for women and men, college age and over, who have never been baptized, were baptized in another Christian Faith and now wish to learn more about the Catholic Church, and for those baptized Catholic but for a variety of reasons may never have received Communion, gone to Confession or been confirmed. Our RCIA Team wishes to invite all adults to join us on a journey of faith leading to entrance into the Catholic Church or to reception of the Sacraments. If you would like more information on the RCIA experience, just give the Rectory a call or speak with Bob Rybarczyk, parish director of Faith Formation. Ideally the RCIA experience leads to a deeper and more personal relationship with Jesus, entrance into the Catholic Community and loving service to the poor and needy, searchers and seekers. If you know an adult who would like to enter the Catholic Community or learn more about the Church as he/she prepares for Baptism, Eucharist, Penance or Confirmation, please let them know about our RCIA experience. Invite them to become a part of our program. Statistics show that for most adults the journey into the Catholic Church begins with the invitation of the committed Catholic. Be that committed Catholic and invite someone you know to learn more about our Church and living life centered in Jesus Christ.
PREPARATION FOR THE SACRAMENT OF CONFIRMATION: Our catechists, under the leadership of Bob Rybarczyk, Parish Director of Faith Formation, are ready to begin preparing our youth to receive the Sacrament of Confirmation. Students in Catholic High Schools in the tenth grade or higher are most welcome to become part of this program. Likewise public high school students 10th Grade and higher are also most welcomed. For public school students, the Confirmation Program is in addition to our Tuesday evening Religious Formation Program. If any of our young people are interested in being prepared for the Sacrament of Confirmation, please call Kathie or Mary at the rectory. Then our candidates can expect a phone call from Bob Rybarczyk who will explain the details of the program. The entire Parish Community of St. Aloysius Gonzaga prays for our Confirmation Candidates.
8/19/18
Bob Rybarczyk, Parish Director of Faith Formation, is pleased to announce the names of our Catechists who will assist parents in educating and forming our youth on their journeys to becoming followers of Jesus Christ. Our Catechists are:
– Kindergarten and First Grade: Jillian Schmidt
– Second and Third Grades with Preparation for First Penance and First Eucharist: Kathleen Mychajliw and Whitney Moreno
– Fourth, Fifth and Sixth Grades: Patty DiNatale – Seventh and Eighth Grades: Lisa MacKay
– Ninth and Tenth Grades: Jean Bloom
Publicly we thank our Catechists for their willingness to share our Faith in Jesus Christ and the Teachings of the Catholic Church with our children and youth. Our children and youth are the Church of Today and the Church of Tomorrow. As parents and catechists work and pray together, our young people will understand more fully what it means to be a follower of Jesus and how to witness to Christ in their daily lives.