Welcome to St. Aloysius Gonzaga Parish Community!
---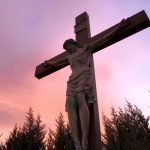 FIFTH WEEK OF LENTEN JOURNEY: Our fifth week of the 2018 Lenten Journey is filled with wonderful opportunities to make this Lent one of the best Lents of our entire lives. Here are some of the happenings.
– Sunday: Children's Liturgy of the Word and RCIA experience
– Monday: Vicariate Program at the Newman Center, Amherst, Father Leon Biernat speaks on Mary as Intercessor, 7:30PM
– Tuesday: Lenten Penance Service at St. Al's with Infant of Prague and St. Jude Center, beginning at 7PM. Lenten Meal – soups and breads – begins at 5:30PM in our school
– Wednesday: Bible Study in Trautenberg Library at 9:15AM, Knights of Columbus Mass in celebration of human life at 7PM.
– Thursday: Pivotal Player #6, Michelangelo, 6:30PM in school
– Friday: Stations of the Cross at 9AM and 7PM
– Saturday: First Penance at 10AM
Choose a couple of these Lenten experiences and as Lent rapidly comes to a close, embrace them as a way to grow in holiness and grace. The Prophet Hosea continues to invite each one of us to return to the Lord this Lent.


---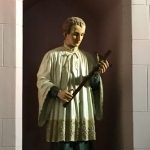 Exciting news!
JUBILEE YEAR OF ST. ALOYSIUS GONZAGA: Our Patron Saint, Aloysius Gonzaga, was born on March 9, 1568. This year marks, therefore, the 450th anniversary of his birth. To celebrate this anniversary, our Holy Father, Pope Francis, has declared a Jubilee Year of St. Aloysius (March 9, 2018 to March 9, 2019). Pope Francis has asked that special celebrations take place throughout the world in honor of St. Aloysius, especially in those churches dedicated to this young Jesuit, such as our own beautiful St. Aloysius.
---
Online resources for our Lenten journey:
Also the daily Gospel is available on our Facebook Page:
---
Mass Schedule:
Saturday Vigil: 5:00 p.m.
Sundays: 9:00 and 11:00 a.m. and 5:00 p.m.
Vigil of Holydays: 5:00 p.m.
Holydays: 6:45 and 8:30 a.m., 12:00 and 7:00 p.m.
Monday thru Friday: 6:45 and 8:30 a.m. Saturdays: 8:30 a.m.
Confessions: Saturday: 4:00 to 4:45 p.m.; anytime upon request
---