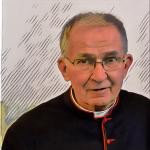 January 20, 2018
WORDS OF GRATITUDE: Publicly Father Peter wishes to thank all those who shepherded the flock while his was away these past 10 days. To Father James Dugan, Father Adelmo Dunghe, Father Gary Kibler for celebrating Holy Mass. To Sister Maryann and Sister Marcine for helping out as needed. To Dino, John, Kathie, Mary and the entire Rectory Staff for keeping the ship afloat and pointed in the right direction. To our faithful parishioners and friends who adjusted their daily schedules to accommodate the changes in Mass times. May God bless them all for so generously sharing their faith and love, their time and talents, their ministries and Priesthood for the good of the entire Community of St. Aloysius Gonzaga.
DAILY MASS SCHEDULE: With the return of Father Peter from a "very well deserved" vacation, two morning Masses will resume this Monday, January 21st, at 6:45AM and 8:30AM. Is there any way you could make daily Mass – or even Mass one morning each week – a part of your spiritual journey? There really is no better way to begin a new day than by feasting on the Word of God and being nourished with the Body and Blood of Christ.
ST. ALOYSIUS CALENDARS for the Year of Grace 2019 are still available in the church and rectory. Take as many as you like.
THOUGHT FOR THE WEEK: "Think of all the beauty still left around you and be happy." – Anne Frank
WHEN WAS THE LAST TIME YOU…thought about becoming a Lector, Eucharistic Minister, Usher, Altar Server or Catechist?