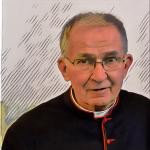 March 24, 2019
LENTEN JOURNEY – WEEK 3: As we enter into the third week of our Lenten Journey, once again there are many different and varied opportunities for us to taste and see the Goodness of the Lord. Try to participate in at least one of these Lenten experiences – especially if you have not had the chance to do so already. – Sunday, March 24th: Celebrate Holy Mass together as a family and invite a non-practicing Catholic friend to come to Mass with your family or with you; – Monday, March 25th: Vicariate Lenten program on the Eucharist, hosted at St. John the Baptist Parish, Kenmore; – Tuesday, March 26th: Novena to St. Theresa and St. Anthony, before 6:45AM Mass; – Wednesday, March 27th: 6:30PM Rosary for Life, followed by the Mass for Respect for Life at 7PM, sponsored by the Knights of Columbus – Father Adelmo Dunghe, SJ, Celebrant and Homilist; – Thursday, March 28th: Adult Faith Formation – Pivotal Players with Bishop Robert Barron, St. Benedict, Part II; at 6:30 PM in school – Friday, March 29th: Stations of the Cross following 9AM Mass and at 7PM; – Saturday, March 30th: Confessions at 4PM and Vigil Mass at 5:00PM. There are also so many other opportunities to taste and see the Goodness of the Lord this Lent. Have you thought about Mass once during the week in addition to Sunday? Adoration of the Blessed Sacrament takes place Monday thru Friday from 1PM to 8PM. Prayerfully reading and reflecting upon the daily readings in our Lenten booklet makes every day of Lent special. Bishop Barron's series on the Pivotal Players is a wonderful way to grow in your knowledge and understanding of our Faith, as is visiting the Trautenberg Library and borrowing a book, DVD or periodical. Maybe just reading the Bible for 10 minutes a day, beginning with one of the Gospels or one of St. Paul's letters. Put your Faith into action by visiting someone who is homebound or resides in a health care facility. Don't waste this Lenten Journey. Don't let Lent come and go without a real change of heart. Lent is a wonderful opportunity for parishioners and friends – for all of us – to taste and see the Goodness of the Lord.
THREE PILLARS: This Lenten season as a parish family we're joining Fasting, Prayer and Almsgiving into a combined action plan. Our traditional Lenten fast might be something like no sweets or less television for the duration of Lent. Our fast for this new challenge is just a little different. We want it to be more specific, more intentional. We will look to deny ourselves something that we are getting ready to use or buy, such as a cup of coffee when you get home from Mass. At the exact moment that we make this sacrifice, we will pray our Lenten theme: "TASTE AND SEE THE GOODNESS OF THE LORD". Just like when we pray the Our Father at Mass, our prayer will be multiplied by the many shared voices. Lastly, we will estimate a monetary value for the sacrifice and place that dollar amount in an envelope labeled "MY FAST". We will turn in the envelope during the regular collection on Easter Sunday and our contributions will be forwarded to the Response to Love Center for the work of Sister Johnice and her community. Our hope is that through this Lenten practice we will grow together as a parish family to make room for the Lord through fasting, as we grow closer to him through prayer and help the least of his people through almsgiving.
WHEN WAS THE LAST TIME YOU…prayed the Stations of the Cross?