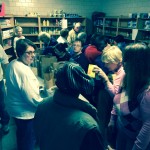 Our Parish Outreach Coordinator is Sister Maryann Kolb, SSJ, 716-833-1715
CHRISTMAS OUTREACH MINISTRY: Just a reminder that Sister Maryann could use your helping hands to prepare and distribute our Christmas Packages for our Parishioners who are home-bound or in health care facilities and to our needy neighbors. The dates and times are:
Monday, December 17, bagging of Christmas Foods and Gifts after 8:30AM Mass
Wednesday, December 19, pick up Christmas Foods and Gifts (1 to 3PM)
Thursday, December 20, delivery of Christmas Gifts to parishioners after Mass
If you are able to assist Sister Maryann, please speak to her personally, call the rectory or just show up. Sister Maryann tells us that this year 75 families will have Christmas dinner, over 100 children will receive gifts and 47 parishioners will be visited. We thank Sister Maryann for her ministry in making all of this possible. What a tremendous sign of our desire to give Birth to Christ within our parish and our neighborhood.