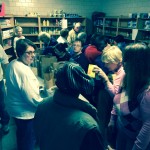 Our Parish Outreach Coordinator is Sister Maryann Kolb, SSJ, 716-833-1715
December 3, 2017
GIVING TREE MINISTRY: Sister Maryann anticipates providing gifts for about 130 children and about 50 parishioners who are home bound or residing in health care facilities this Christmas. You can participate in this ministry by taking an ornament from our Giving Tree and providing the gift for a child or one of our seniors. Because of the shortness of our Advent Journey this year, Sister Maryann is asking that all gifts from the Giving Tree be returned no later than Sunday, December 10th. Please tape the Giving Tree ornament to the unwrapped gift and bring it to Church or the rectory by next Sunday. It is most important to have the gifts on time so that Sister and those who minister with her can keep to the delivery schedule. God bless all our parishioners and friends who participate in our Giving Tree Ministry this year.
December 27, 2015
The Pastoral Care of our parishioners in health care facilities and in their homes is a high priority here at St. Aloysius Gonzaga. Under the leadership and ministry of Sister Maryann and those who assist her – our Eucharistic Ministers and Home Visitors – parishioners are regularly visited, brought the Eucharist and remain "connected" with the larger parish community. But we can only achieve this goal if we have the most current information available. So we once again ask our parishioners and family members to keep the rectory up-to-date about the needs of all our parishioners – to call as soon as possible when someone goes into the hospital, when someone is admitted to a health care facility permanently or for rehab, when a healthcare residence is changed, when someone becomes home-bound for just a few weeks or for a longer period of time. It is such a joy to bring the Eucharist, as well as the prayers and the love of the family of Saint Al's to all parishioners – but, again, we can only do this if our information is correct. And don't forget to call the rectory and remind us to visit if a parishioner feels "neglected" – we too need to be gently nudged. The Gospel reminds us over and over again of the love of Jesus for the sick and those in need. Please assist us continue the healing and saving Presence of Jesus in the world by helping us keep current on the pastoral needs of our good people. May Mary, Helper of the Sick, be with all our parishioners in need of healing of mind, body and heart.
December 20, 2015
Our Pastoral Minister, Sister Maryann Kolb, wishes to inform the community that this Christmas – because of the goodness of so many – our Outreach Ministry will provide Christmas Dinner for 81 families as well as toys for 161 children. In addition, 60 parishioners who are home bound or residing in a healthcare facility will receive a Christmas Gift Bag. But more than toys, food or gift bags, what we are actually sharing with those we serve are Hope, Peace, Joy – the very Presence of Jesus Himself. Because all those we minister to are "Jesus in disguise" – hopefully we see Jesus in everyone. Sister Maryann wishes to thank all those who participated in the "Giving Tree" and donated food items for the Christmas Food Baskets. Donations were also received from the Cleve-Hill Schools and the St. Vincent de Paul Societies of St. Benedict and Christ the King Parishes. Many financial gifts were received from parishioners and friends that enabled our Food Pantry to serve additional families this year. Sister also wishes to thank parishioners and friends who helped prepare the food bags and arrange the gift bags – and then were present to distribute them in the hectic days before Christmas. Jesus is indeed the "reason for the season" – and that is very clear as our Parish Family, under the most capable ministry of Sister Maryann, assists so any people bringing them the Good News that Jesus is born not only in Bethlehem but also in the hearts of all who are kind, merciful and believe.
December 6, 2015
GIVING TREE: Through the ministry of Sister Maryann and those who serve with her, our Giving Tree does so much to bring hope, joy and love into the lives of our parishioners who are home-bound or in health facilities, as well as to the poor and needy of the wider community. The Giving Tree reminds us that it is not "about me" but about bringing the Good News of Jesus – His Love and Mercy – to others. Sister Maryann requests that if you take an ornament from the Giving Tree that the gift be returned no later than Sunday, December 13th. The gift should be unwrapped with the star ornament securely attached to the gift. Another great way to begin the Holy Year of Mercy by sharing love, mercy and peace with our sisters and brothers in need.
CHRISTMAS OUTREACH MINISTRY: At this time of the year, Sister Maryann is always most grateful to all those who assist her in our service to the people of St. Al's and our neighbors. Sister Maryann could use help on the following occasions: – Monday – December 14th – preparing groceries for Christmas dinners after the 8:30AM Mass. – Tuesday – December 15th – preparing toys after the 8:30AM Mass. – Wednesday – December 16th – pick up toys and dinner foods from 1 to 3 PM. – Thursday – December 17th – deliver Gift Bags to parishioners who are home-bound or in health care facilities after 8:30AM and all morning. If able to be of help, please speak with Sister Maryann or call the rectory and leave your name and phone number. Deep gratitude to all who minister so generously to parishioners and the poor this Advent Season.
November 22, 2015
OUTREACH MINISTRY AT THANKSGIVING: Sister Maryann is so pleased to report that as a Parish Community we will provide Thanksgiving Dinners to 75 families this year. What a great sign that we see the Face of Jesus in all who come to us in their times of need. Sister wishes to thank in a special way those who donated food and monetary gifts to our Food Pantry, those who prepared the food bags and distributed them, those who shopped with her to stock the shelves of our Pantry.
June 14, 2015
PASTORAL CARE OF THE SICK: The Gospel writers tell stories over and over again of how Jesus cared for the sick, restoring the sight of the blind and enabling the lame to walk. It is the joy and privilege of Sister Maryann Kolb, our Ministers to the Sick and Father Peter to continue the healing ministry of Jesus in our midst. Please keep us up-to-date on the changing health needs of our parishioners and friends. If someone is admitted to the hospital or goes to a health related facility for rehab or more permanent placement, let us know immediately so we can pray for that person and visit that person. If for a time a person is not able to join us for Sunday Mass in Church, let us know so we can visit and bring the Eucharist. If someone is facing surgery or the limitations of advanced age, call the rectory so we can arrange a mutually convenient time for the Celebration of the Sacrament of the Sick. Please do not think we are too busy so you don't want to bother us. That is precisely what we want to be bothered with – opportunities for us to continue the healing, saving Presence of Jesus in our midst.