8/27/17
HOLY NAME BUFFALO BILLS FOOTBALL CHALLENGE: The football season will soon be starting and once again our Holy Name Society will sponsor their "Buffalo Bills Fun Football Challenge". This contest tests whether you can predict (or guess) the number of winning games along with passing, rushing, scoring and field goals statistics. Top prize is $100.00, with additional prizes of restaurant gift certificates. Contest forms will be available at the church entrances and entries must be submitted by Noon on Sunday, September 10th. Try your luck and support our Holy Name Society.
Diocesan Holy Name Society's Annual Awards Banquet: Two priests with connections to St. Aloysius Gonzaga Parish will be honored at the Diocesan Holy Name Society's Annual Awards Banquet. Father Robert Zilliox, son of parishioners Bob and Elaine Zilliox, and Father Jeffrey Nowak, a teacher in St. Al's School, will be recognized at the banquet to be held at Kiebzak's Restaurant in Sloan on Sunday, October 15th. If interested in attending and if you would like to form a St. Aloysius Gonzaga Table for the Awards Banquet, contact Tim Franczyk at 833-1715.
4/30/17
CONGRATULATIONS TO HOLY NAME SOCIETY: A word of gratitude to Joe Ducato, President, and the Officers and Members of the St. Aloysius Gonzaga for inviting all of us to their annual Spring Brunch. The guest speaker, George Richert, former newscaster and presently Director of Communications for the Diocese of Buffalo, was most interesting, sharing his insights into the Ministry of Communications and answering many questions on a variety of topics. Our Holy Name Society is always welcoming new members. The next monthly meeting is Monday, May 1st, at 7:30PM in the CYO Room. Topics for discussion will include the Wine and Cheese Tasting Party set for Thursday, May 25th and the Men's Picnic on Friday, June 2nd. Plan to attend, bring a fellow-parishioner, and enjoy an evening with other men of our parish.
2/12/15
All men of the parish are cordially invited to attend the Holy Name Mass and breakfast on the third Wednesday of each month – and bring a friend.
Holy Name dues for 2017 are still being collected. If you have misplaced the dues envelope that was delivered in your parish envelope packet, you can place your $10.00 due payment (along with an additional donation if you wish) in an envelope marked "Holy Name Dues" and place it in the collection basket or drop it off at the rectory.
The Holy Name Society is established to promote reverence to the Sacred Names of God and Jesus Christ, to display obedience and loyalty to the Catholic Church, and to lead to the personal sanctification and holiness of its members. All men of our parish are encouraged to join our Holy Name Society and to become active and participating members.
2/5/17
BILLS HOLY NAME CONTEST: Winners have been announced for the Holy Name Society's Bills Fun Football challenge. Taking first place was Bills Guru and St. Al's School graduate, Tom Schuh. He received a $100.00 top prize for his accurate predictions. Tied for second place were parishioner, Dan McCue, and Kevin Carney of Lancaster. Each received $25 restaurant Gift Cards. There was a tie for fourth place between parishioner, Tom Lewandowski, and James Baker. Each of them also received a Gift Card. The Holy Name Society wishes to thank all parishioners and friends who took part in the contest. A special word of gratitude to Milo's, Labella's and McPartlan's for donating gift cards for prizes. There is always next year – Go Bills!
1/15/17
January 2017 marks the beginning of the fifth year of regular monthly gatherings for Mass and Breakfast by our St. Aloysius Holy Name Society. On the third Wednesday of every month, the men gather at the morning Mass, followed by breakfast at Milo's Restaurant on Main Street in Williamsville. All men of the parish are invited to join with the Holy Name members this Wednesday, January 18th at the 8:30 AM Mass.
11/20/16
GRATITUDE TO HOLY NAME SOCIETY: Publicly Parish Leadership wishes to thank the members of the Holy Name Society – President Joe Ducato and all Officers – for inviting us to join them last Friday in a Day of Thanksgiving by embracing Eucharistic Adoration. It was beautiful and amazing to see how many parishioners and friends stopped by our Adoration Chapel to spend some time in the Presence of our Eucharistic Lord. What a wonderful way to give thanks to the Lord, our God. Gratitude to the Holy Name Society for sponsoring this day and for inviting us to join them in grateful praise and thanks in the Presence of the Blessed Sacrament.
11/6/16
Our Holy Name Society will meet this Monday at 7:30 pm in the parish hall. Items for discussion will include the November 11th Day of Thanksgiving and the December 1st Christmas Party. Plan to attend and bring a friend. The 7th Annual Day of Thanksgiving, sponsored by our Holy Name Society, is set for this Friday, November 11th, from 1:00 to 9:00 pm. We invite all parishioners and friends of St. Aloysius Parish to visit the Holy Eucharist and spend some time to reflect on the many times you have been blessed by Our Lord in your life time. Since the Day of Thanksgiving is held this year on Veterans Day, it gives us an opportunity to give thanks in prayer to those who have served our country.
EUCHARISTIC DAY OF THANKSGIVING: For the past 7 years, the Officers and Members of our Parish Holy Name Society have sponsored a Parish Day of Thanksgiving during the month of November, inviting parishioners and friends to join the members of the Holy Name in prayer before the Blessed Sacrament, This year our Day of Thanksgiving will take place on Friday, November 11th, from 1 to 9PM, in our Adoration Chapel. All parishioners and friends are invited to join the members of the Holy Name in prayer before the Blessed Sacrament. Even if you do not regularly participate in Eucharistic Adoration give careful consideration to making a full Holy Hour or just a brief visit on November 11th. Special gratitude to the members of the Holy Name Society for inviting all of us to join them in adoring our Eucharistic Lord on this "Day of Thanksgiving."
May 1, 2016
Joseph Ducato, President of our Holy Name Society, wishes to thank all our parishioners and friends for making their annual Mass and Communion Breakfast so successful this year. Joe writes: "It was a St. Aloysius family gathering with plenty of good food, drinks, desserts and best of all an interesting half-hour presentation by Sister Michele Jackson, our "in-house" Pastoral Counselor. Sister Michele, in her own professional way, led us to a better understanding of ourselves and how much we grow when we help one another – becoming instruments of Mercy during this Year of Mercy. Sister Michele's Office is in our school building and she can be reached at 390-9836. Thanks to all who participated in this special event."
Following are some excerpts from past copies of the Holy Name News thanks to Dick Jauch and Michael Missert.
10th Anniversary Proclamation 1950
25 Years of Progress Pics 1965
____________________________________________________________________________________
May 5, 2013:
The members of our Holy Name Society wish to thank all our parishioners and friends who joined them for their annual Mass and Breakfast. Special gratitude is extended to Art and Mary Haberman for their presentation on ministry at the Little Portion Friary. Anyone interested in making a donation to assist the homeless through the Little Portion Friary may do so c/o Art and Mary Haberman, 40 Stonecroft, Eggertsville, NY 14226. You may also contact Art and Mary at 882-5705 if you would like information on opportunities to minister and volunteer at the Little Portion Friary.
On  Sunday, April 21st, members of the parish joined the Holy Name Society at their annual 9:00 AM Mass, Communion and Breakfast. The guest speakers were parishioners Art & Mary Haberman, talking about the manner in which several St. Al's parishioners volunteer their time and talents, responding to the new Pope's message of service to those in need for the Little Portions Friary.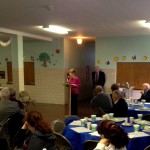 ___________________________________________________________________________